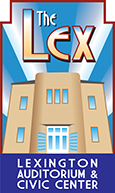 Support The LEX
Now that The LEX has opened its doors, there are many basic items needed for day-to-day operations. Consider becoming a FRIEND of The LEX; any amount is appreciated, and is tax deductible! Contact us for more donation options or a contribution. Thank you!
Help Us Restore Windows at The LEX.
Your tax deductible in any amount will be used to fund restoration of exterior windows at The LEX. There are a total of 26 windows needing restoration at a total cost of $6,000. Any amount would be appreciated. Thank you!
You Shop. Amazon Gives.
Amazon donates 0.05% of the price of your eligible AmazonSmile purchases to The Lexington Auditorium and Civic Center. AmazonSmile is the same Amazon you know. Same products, same prices, same service.
Support The LEX by starting your shopping at https://smile.amazon.com